Dallas

to

Aspen

Flights With Wildcat
Leave Commercial Flying Behind And Experience Luxury Travel At Its Best
Schedule

Your Flight

Plan your Dallas to Aspen or Houston to Aspen trip now with our convenient online booking system.
Private Terminal Access

for quick, stress-free check-in and boarding.
Our flight professionals provide unparalleled customer service, from beginning to end, to ensure your trip is unforgettable.
Wildcat Touring travels privately and semi-privately from Dallas Love Field to the Aspen/ Pitkin County Airport, Colorado through both pre-scheduled and privately scheduled flights. Along with our nonstop flight service, you'll enjoy features like:
Private terminal usage for both departure and arrival
Free luggage service for up to 2 bags when they weigh less than 60 lbs total
In-cabin pet accommodations so you can worry less about your furry friend's flight experience
Complimentary snack and beverage service so you always land refreshed
Abundant and legroom oversixed, leather seating so you can stretch out and relax
Clean, sanitized seats and trays with no sticky residue or mystery goop in the seat pockets
Leave the stress and anxiety of commercial travel behind, and enjoy a luxury, nonstop flight with no hectic baggage claim or long TSA lines. When you book your Dallas to Aspen flight with Wildcat Touring, you get all the perks of a private or semi-private flight experience. Call our representatives today to learn more or to schedule your Dallas to Aspen flight with Wildcat.
Call us at 1-254-WILDCAT or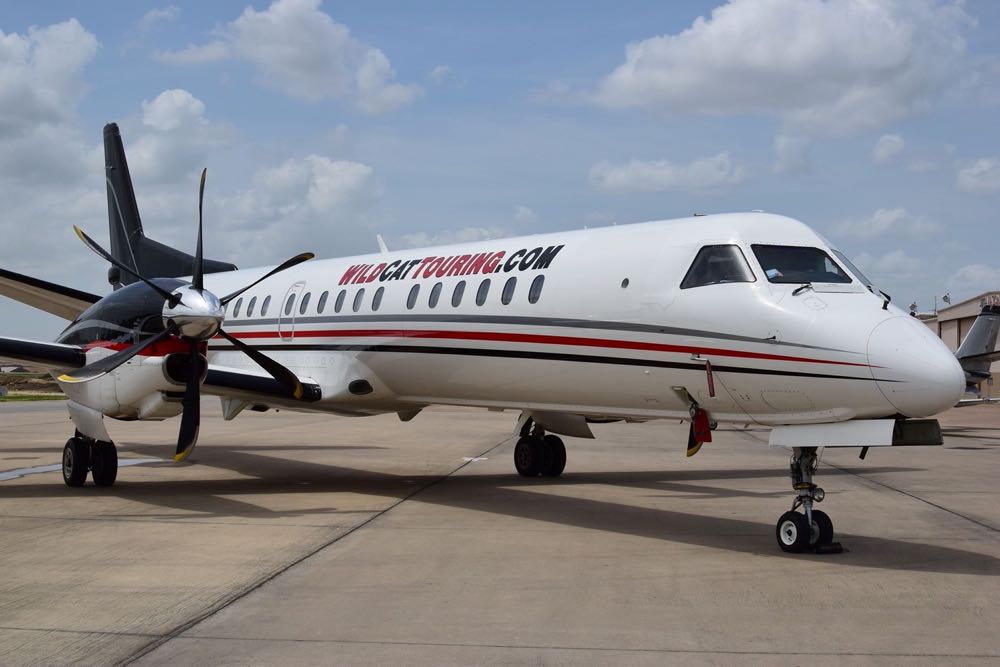 OUR PLANE
When you fly with Wildcat Touring, you'll enjoy your Dallas to Aspen flight on our state-of-the-art SAAB 2000 aircraft. Redesigned from a 50 seat cabin to a roomy 30 passenger cabin, our aircraft is perfect for relaxing through your 2 hour nonstop flight. Newly installed oversized, reclining chairs ensure your comfort throughout the trip, and oversized storage areas make storing your items a breeze. If you're traveling with pets, they will enjoy in-cabin flights, just like you! We never keep pets in under-storage.
SAFETY IS OUR #1 PRIORITY
Not to be confused with the smaller Saab 340, the 2000 combines near-jet cruising speed with turboprop fuel economy. This plane was developed under the same regulations and certification standards as jet airliners.
Redundancy of systems and performance requirements are the same as with all commercial airliners.
Advanced avionics for heightened crew situational awareness, are designed to enhance capability, reliability, and safety.
Crew training and qualification is also the same as that mandated for commercial airlines.
Capable of over 4,000 horsepower, the engine and propellers on this aircraft are the same as in use onboard US Air Force C-130J.