Aspen, US
4:49 am, September 24, 2023
35°F
Wind: 7 mph
Pressure: 1025 mb
Visibility: 10 km
Sunrise: 6:56 am
Sunset: 7:02 pm
Bags Fly Free
As a luxury travel provider, Wildcat Touring doesn't charge you a bag fee for your first or second bag when they weigh under 60lbs in total. So bring those skis or golf clubs and don't wait in lines to check them. It's time to get going on Wildcat!

Up to 60 lbs. total per ticketed passenger.
MAX BAGS: 2 checked bags (60 lbs total).
One carry-on allowed per ticketed passenger.
Additional Bags: Provided that space and weight restrictions allow, passengers will be charged $100 per bag in excess of two.
Pet

Policy

We can accept a maximum of 7 dogs or cats on each flight (not including service animals)*. First come, first served. Please contact Reservations at 254-WILDCAT to make arrangements at least 48 hours prior to your flight.
Small Pets (those that will fit in a kennel 10 inches tall x 15 inches deep x 15 inches wide).
$150.00 additional pet charge.
Your pet is at least 8 weeks old.
Your pet has current vaccinations.
Your pet stays in their kennel and under the seat in front of you the entire flight.
FAA approved kennel.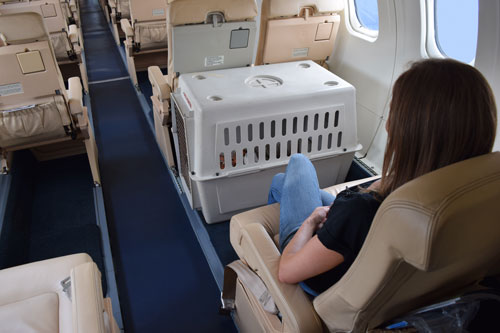 Larger Pets (maximum kennel size 27 inches tall x 25 inches wide x 36 inches deep).
Due to the kennel having to be secured in front of your legs in the cabin, you will be required to purchase both seats on the double seat side of the aircraft, even if you're traveling alone.
Your pet has current vaccinations.
Pet handling fee of $600.00 per flight.
FAA approved hard side kennel.
*If you have any questions, please contact Reservations at 254-WILDCAT.
Bring What You Want – Travel Extras
Wildcat Touring allows most items on flight. However, some items are accompanied by a fee.

Bikes
We allow bikes on flight for $100 each. Max allowed is 2 per flight.


Golf Clubs
Golf clubs can be used as 1 of your 2 checked bags as long as you stay within the weight guidelines, or add them to your reservation separately for $100 each fee.

Additional luggage is subject to availability based on allowable space in the cargo area of each flight. Please call for up-to-date information on your flight's luggage availability.
Volume
Discounts
We do offer volume discounts when purchasing tickets. If buying ten (10) round trip tickets we will give you one round trip ticket free.
All tickets must be purchased at one time.
Tickets may be purchased in multiple passenger's names.
Must be purchased with one credit card.
Change fees will apply.
Call our Reservations 254-WILDCAT for complete details.